We just can't stop it…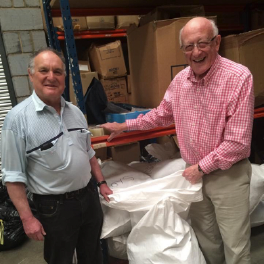 12th June 2015
With 12 years' experience in shipping humanitarian aid from the UK to impoverished communities around the world, it's difficult to stop. So when the UK charity I worked for closed down the Gifts-in-Kind programme I managed, I decided to continue. Yes, I had a lot of encouragement to continue this work and my family might even say that I have always been 'in the business of helping people', no matter who or where they are. 
I was motivated by continued requests for clothing, shoes, and other basic necessities which were flooding in to me by email and skype by the registered charity contacts I had worked with over many years. 'Please don't stop this lifeline of goods; our children have no shoes, our babies have no nappies. We need blankets for the winter'. Requests came from near and far. From Ukraine, Moldova, Belarus, Georgia, Israel, Romania and the Baltic countries, where people live on little or no incomes, where people are lacking in clothing for their babies or school-children. Where people are sadly - victims of circumstance.

To say I was inspired is actually an understatement. I was inspired by the help offered to me by ex-colleagues, some of whom are today's Directors of GOODS FOR GOOD. Inspired and helped financially and logistically by the Dutch Charity, Humanitarian Resources Foundation International to join forces, set this up from scratch and make it happen again. www.hrif.nl I was inspired by local businesses giving me advice, warehouse space and logistics assistance. I was further encouraged and excited by the response of both large and small UK companies with overstocks, who wished to dispose of their goods ethically, whilst confidently protecting their brand and in the knowledge that they will receive tax relief on their donations of goods, whilst adhering to their zero-waste policies. They were confident that we knew how to make this simple for them. 
They couldn't stop it either. Along the way, I bumped into professionals and retired people alike, who wanted to be involved and help in some way. Always in the background, was a group of amazing volunteers. They were whispering in my ear, eagerly offering helping hands. How thrilled I am that now, with the generosity of a local entrepreneur, who has donated his warehouse to the cause, they can help once again. Community outreach means that we are giving a new life to once-loved clothing and shoes and adding these goods to the consignments of aid. Both new and old volunteers are now enjoying giving-back and being hands-on, helping us make it happen. 
And so that's how I started setting up GOODS FOR GOOD. It's been a fabulous journey of learning, being mentored and encouraged all the way, by other professionals. I am confident that we will find the funding we need to finance this operation which has run so far on a shoe-string budget, goodwill, and strong partnerships. Because together we are making it happen for those in need, and we just can't stop it…..