We need the coat off your back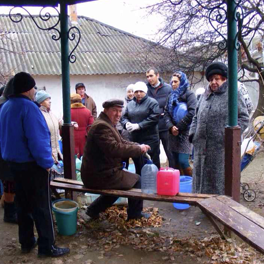 18th August 2015
This could be me in this picture. Fortunately, my Grandma Kate and Grandpa Wolfe had the foresight to leave Ukraine in 1906. As we pack for our holidays this August, the small team at GOODS FOR GOOD are thinking about packing too.  We are thinking about packing goods and delivering in time for the Ukrainian winter 2015. Temperatures will plummet to unimaginable minus 15 Celsius, and the bitter cold will kill many vulnerable people, whose circumstances were never that good to start with. 
Now, with 1.5m displaced, innocent people in Ukraine living in temporary shelter, half-way houses, or in cold and dark basements with no ventilation or fresh air, there is a desperate need for warm coats, clothing and blankets this winter.  They fled their homes in haste, with only the clothes on their backs and may be, a couple of light bags were all they could carry. 
We are already inundated with SOS requests. GOODS FOR GOOD & HRIF in Amsterdam are working together with registered Ukrainian charities on the ground, who assist these vulnerable innocent victims of circumstance. Displaced elderly, infirm, single parents, and regular families and children; just like us.
We are successfully transporting monthly consignments of humanitarian aid into Ukraine and with your help we can make this happen. We are asking the community to get involved and donate one coat. Yes,  just one warm coat in great condition. Logistics are expensive and if you can help us by donating £1.00 for every coat you donate to us, then this will help us get the truck to Ukraine in time for the bitter oncoming winter. So this is the plan. Post your coat to us, or better still bring it to our warehouse together with your family & friends' coats. The address is:  
Unit 1, Borehamwood Enterprise Centre, 
Theobold Street, 
Borehamwood, 
WD6  4RQ. 
Or email rosalind@goodsforgood.org.uk  and get involved. 
Our amazing team of volunteers will sort and pack the goods you donate to us. They will pick and pack the lovely donated clothing, knowing  that your donated coat will bring warmth, dignity and hope to the recipients.
#SOSwinter2015 #giveupyourwarmcoat #weneedyourcoat