We've moved mountains…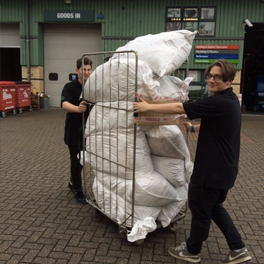 20th May 2015
So we feel it's a fabulous reason to celebrate!  It's less than a year since I registered GOODSFORGOOD - and I'm just so delighted and proud at what's been achieved. We moved 'mountains' of£1.2m worth of goods to communities in desperate need. That's 20 trucks of brand new goods! Clothing, shoes, hygiene goods, warm bedding, gorgeous hand-knitted blankets.
Our success means that we are able to get to those in dire poverty, who have no access to clothing, shoes, nappies, nor warm bedding - which we all take for granted here in the UK. It's shocking to think that today there are 1.5m homeless very needy people, displaced by the war in Ukraine. They escaped and ran out of their homes with only the clothes on their backs and with the bags they could carry. These people are victims of tragic circumstances. Sadly, we are hearing of more and more alarming stories of people in great need.
So the story began one year ago. I teamed up with a fantastic Dutch registered charity HRIF, based in Amsterdam. I contacted generous UK companies, schools, churches and synagogues to collect and deliver a lifeline of new goods. We have been helping UK companies dispose of their overstocks in a transparent and ethical way. What could be better than delivering those goods to those who have no means to purchase nappies or a warm coat?
During the month of May we started collecting second-hand clothing, in great condition. With the help of amazing, dedicated volunteers of all ages, we have sorted and packed 1500 kilos of fabulous, best quality second-hand clothing and shoes for children, babies and adults.
Our biggest challenge is financing this operation. I am confident that we will find the help to climb this mountain too.